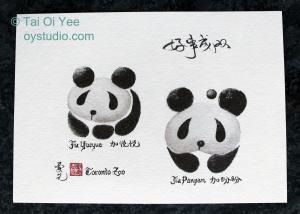 A pair of baby pandas were born in Toronto, and there was a public vote being held for their names. The Toronto Zoo commissioned me to produce three hundred custom signed limited edition prints as gifts for the guests at the VIP Event on March 7, 2016 (today) introducing the panda cubs and revealing their names.
I signed a confidentiality and non-disclosure agreement with the zoo not to release any info until the event which was held earlier today. The VIP guests included the Canadian Prime Minister, Chinese Ambassador, Ontario Premier, Toronto Mayor and more...





Artwork by : Tai Oi Yee 戴愛兒
Title: Good Things Come In Pairs 好事成双
Website: http://oystudio.com
Here is my print with the names of the panda cubs, Jia Panpan 加盼盼 and Jia Yueyue 加悦悦 , and the note that the zoo asked me to write about the inspiration behind the artwork. The original painting is sitting behind the desk of the zoo's CEO.

 



 
在多倫多出生的熊貓寶寶名字的公眾投票已完成。 多倫多動物園委託我特造三百幅簽名限量版印畫作為禮物送給今天公佈熊貓名字活動的貴賓。嘉賓包括加拿大總理,中國駐美國大使,安大略省省長,多倫多市長...





Received the letter of appreciation from the CEO of the Toronto Zoo:





 See news about the panda VIP event

Tai Oi Yee 戴愛兒
Website: http://oystudio.com